Creationism and Pseudo Science
by Frank Steiger
© 1996 Frank Steiger; permission granted for retransmission.
My academic background.
Please send comments to fsteiger@home.com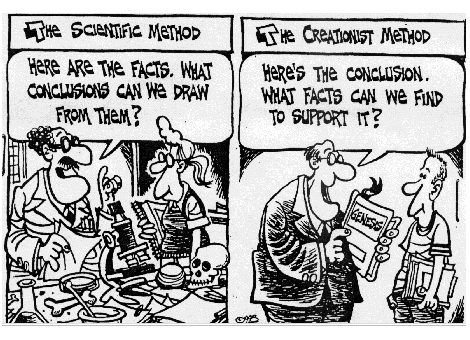 Table of Contents
---
Click here to link to other evolution web sites.
---
The National Center for Science Education can provide information and assistance to those concerned about the inroads of creationism. For further information, click here.
---
The talk.origins newsgroup has compiled a comprehensive list of FAQS (answers to frequently asked questions). These faqs cover every aspect of the creation/evolution controversy in considerable detail: talk origins faqs
---
The Triumph of Evolution...and the Failure of Creationsim by Niles Eldredge, a Peter N. Nevraumont Book published by W. H. Freeman & Co., exposes creationist goals and tactics in an interesting format. Anyone tempted to give credence to creationist claims should definitely read this book!
---
The Oakhill Free Press has published a number of books and tracts on the subject of creationism. Write to P.O. Box 61274, Pasadena, CA 91116 or E-mail to 103514.3640@compuserve.com for a book list.
---
Finding Darwin's God by Kenneth R. Miller, published by Cliff Street Books, destroys the "independent design" arguments of Michael Behe, Phillip Johnson, et al.